Saturday, November 16, 2019
TMUC
This event has already occurred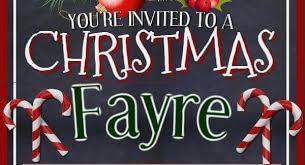 UCW Christmas Fayre Saturday, November 16th @ 9 am – 1 pm
At Trinity Memorial United Church
33737 George Ferguson Way Abbotsford
Donations greatly appreciated are Christmas Cookies & Baking, Christmas Treasures, and Handicrafts Donations of prettily packaged Gift items that can be used for hostess or teacher's gifts [such as homemade soap, candies or jam in a cello bag] is a new request this year.
By Nov 3rd, please give Joanne Craven any jewelry donations and Mary Turner any teapot or teacup & saucer donations.
For the craft table, please provide a list of your donations with suggested prices. It would help if you were to notify Marcia Smith before the sale, so we can set up a suitable area for display.
No books or garage sale items please.
Pancakes and sausages will be served from 8 am – 10 am,
Community Coffee will be 10 am – noon, and Lunch will be 11 am – 1 pm.
We are designing the 2019 Fayre for families of every age to enjoy!
Let's fill the lower halls with FUNdraising!
www.trinitymemorialuc.com
604-853-2591